Appears in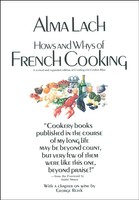 Ingredients
Recipe of puff pastry, or Pâte Brisée
2 (3-pound) fryers, cut up
¼ pound butter
2 onions, quartered
2 shallots, diced
3 cloves garlic, minced
4 tablespoons flour
¼ cup Cognac
2 cups white wine
½ cup chicken stock
1 teaspoon tomato paste
Bouquet garni
⅛ teaspoon thyme
Salt and pepper to taste
4 lamb kidneys
Butter
4 (¼-inch thick) slices salt pork, diced, or ¼ pound
1 pint mushrooms
3 hard-cooked eggs
Beurre manié
1 egg yolk
1 tablespoon water
Method
This is a basic chicken-pie recipe. It can be served in a casserole, in a casserole with a pastry lid, in a deep pan or dish lined with pastry as we would make a cobbler, or in a vol-au-vent made of puff pastry. We will make the casserole with a puff-pastry lid.
Make the puff pastry. While it chills, prepare the filling.
Brown chicken in butter, skin side first and then the fleshy side. In this way the juices are sealed in the chicken, and the skin side, which is served up, has a clean skillet in which to brown. Omit bony pieces of chicken.
When both sides are browned, pour off butter (save for other cooking). Add onions, shallots, and garlic. Stir in flour with a wooden spoon. Pour Cognac over and set aflame. When flame dies, add wine, stock, tomato paste, bouquet garni, thyme, salt, and pepper. Simmer 30 minutes. Give puff pastry a turn according to its recipe.
Remove outside skin of kidneys. Cut in half, then in chunks. Cook-toss in a chunk of butter for 5 minutes. Drain. Put on plate ready to use. Wipe out skillet with paper towels. Fry salt pork to a crisp. Drain and add to plate. Wash mushrooms. Quarter large ones; leave small ones whole. Sauté in piece of butter for 3 minutes. Add to plate. Give puff pastry a turn. Boil eggs.
When chicken is done, arrange pieces in an 8–10-cup casserole. Adjust thickness of sauce with beurre manié, then strain sauce into casserole. Add the crisp salt pork, kidneys, and mushrooms. Shell eggs and cut in half. Add to casserole.
Take dough from refrigerator. Give it one last turn, then roll to ⅛-inch thickness on the fourth rolling.
Press a sheet of foil over the top of the casserole to make a pattern. Cut out the pattern and lay it on the dough. Cut out a lid of dough. Cut a ring of dough ¼ inch wide from the dough adjoining where the lid was. Wet the lip of the casserole. Lay this ¼-inch strip on the dampened edge. You won't use it all. Press tight. Dampen strip. Place crust on top of the wet strip. Press, then flute the edge like a pie crust.
Now decorate the crust with pastry cut-outs of flowers, leaves, or whatever you wish. Brush the entire crust and decorations with a mixture of 1 egg yolk and 1 tablespoon water. Use a paint brush for this job. Make a ¼-inch hole in the middle of the crust. Insert a small chimney of foil into the hole. This is a vent through which the steam escapes so that the crust will not rise from the edges of the casserole. Put into a 400-degree oven for about 30 minutes to heat contents of casserole and brown crust.
Wine
Volnay les Santenots
,