Appears in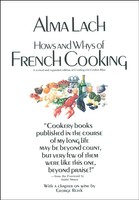 Ingredients
1 (4-pound) veal rump roast
Duxelles
¼ pound butter
4 onions, minced
1 pound fresh mushrooms, minced
½ teaspoon salt
Dash of pepper
½ teaspoon confectioners' sugar
Mornay Sauce
⅛ pound butter
4 tablespoons flour
2 cups light cream
Dash of nutmeg
½ teaspoon salt
⅛ teaspoon white pepper
1 teaspoon sugar
2 egg yolks
¼ cup crème fraîche or whipping cream
¼ cup Parmesan cheese
Method
Braise veal according to basic recipe on. Try to get a solid piece of meat, that is, a piece with just one big muscle, rather than a rolled roast.
Make Duxelles. Sauté onions in ¼ pound butter for 10 minutes. Do not brown. Add mushrooms and seasonings and cook 5 minutes. Put onto a plate ready to use.
This Mornay sauce uses cream, not milk. Melt ⅛ pound butter in skillet. Stir in the flour. Cook a few minutes, but do not let it brown. Add cream. Stir-cook until thickened. Add nutmeg, salt, pepper, and sugar. Cover with lid and remove from heat. It is ready to finish and use.
When veal is done put it on a hot platter. Let it rest a few minutes. Combine yolks and crème. Stir into the cooled sauce and then reheat. Do not let it boil.
If meat is tied, remove strings. Cut veal into ¼-inch slices. Coat each slice with Duxelles. Place slices on oven-proof platter. Arrange in the form of the uncut veal roast. Coat with Mornay sauce, sprinkle with Parmesan and set into a 400-degree oven for about 20 minutes to heat and brown. Thin remainder of sauce with additional cream, season, and serve separately.
,