Appears in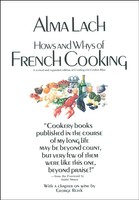 Ingredients
1 (4-pound) rump roast
Recipe of Duxelles sauce
Madeira
Salt and pepper to season
Cheese Soufflé
⅛ pound butter
4 tablespoons flour
1 cup light cream
½ teaspoon salt
Dash of nutmeg
⅛ teaspoon pepper
4 egg yolks
½ cup Parmesan cheese
5 egg whites
Method
Braise veal according to basic instructions. Make Duxelles sauce from preceding Orloff recipe.
While veal cooks, make the cream sauce for the soufflé: Melt butter in skillet. Stir in flour and add cream, salt, nutmeg, and pepper. Stir-cook until very thick. Remove from heat. Add a couple of tablespoons of hot sauce to yolks. Mix, then stir back into sauce. Add cheese. Warm, then take from heat, cover with a lid and set aside until ready to use.
When veal is done, take from pan and let it rest for a few minutes. Strain pan juices into a skillet, adding stock to make 1 cup liquid. Flavor with 1 tablespoon Madeira and season. Carve roast. Coat slices with Duxelles as is done in the preceding Orloff recipe. Arrange coated slices in the form of the uncut roast on oven-proof platter.
Make a foil collar to encompass the veal, letting it come to about 1 inch above the roast. Grease and flour the collar and stand it on the platter. Fit collar tight around roast and then pin the ends of the foil tight together. If there is a trick to this recipe, it is containing the soufflé. The warm roast tends to melt the soufflé.
Beat the egg whites stiff. Stir-fold into the thick cream sauce. When mixed, pour into foil collar to cover the roast. Bake in a 450-degree oven for about 20 minutes, or until browned and puffed. This should be sufficient time, since the roast is warm. If not, cook another 5 minutes. The soufflé must be firm enough to hold by itself once the collar is removed.
When done, carefully unpin and remove the foil collar. Serve slices of meat with some soufflé. Pan juices served separately.
Wine
Clos de Vougeot Blanc