Appears in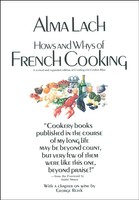 Ingredients
6 slices lean bacon
Lettuce for six
1 onion, diced
½ teaspoon salt
½ teaspoon sugar
Freshly ground pepper
3 tablespoons vinegar
6 tablespoons whipping cream
Method
Cut bacon into ½-inch pieces. Stir-fry until crisp and the fat is rendered. Observe how much fat is in skillet. If more than 5 tablespoons, spoon some out, leaving approximately 5 tablespoons in the pan. Set aside until ready to serve the salad.
Break up the lettuce into small pieces and put into a wooden salad bowl. Put the diced onions on top of the lettuce.
When ready to serve the salad, season with salt, sugar, and pepper. Reheat the bacon and fat. Measure the vinegar into a glass so that it can be added all at once. Have a skillet lid in one hand. Pour the vinegar into the hot bacon fat and cover with the lid. It pops a lot. Lift off the heat and pour over the onions and lettuce. Turn the hot skillet upside down over the lettuce in the salad bowl. Leave for a minute or so. Remove, add cream and toss. Taste and adjust the seasonings. Serve.
,