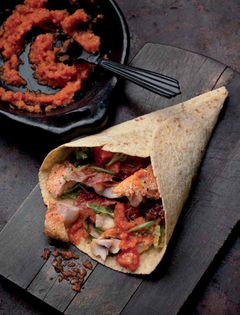 Appears in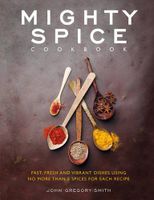 Ingredients
3 tbsp olive oil
4 red mullet or sea bass fillets, skin on, about 120 g/4¼ oz each
4 slices Parma ham (optional)
120 g/4¼ oz mozzarella, finely chopped
8 cherry tomatoes, finely chopped
4 spring onions, finely chopped
1 cos lettuce, finely chopped
4 corn tortillas
Method
To make the salsa, heat a frying pan over a high heat until smoking hot. Add the tomatoes, garlic and onion and char on all sides for about 5–6 minutes, or until they are blackened and tender. Remove from the heat. Once cool enough to handle, skin the onion and garlic. Put the tomatoes, garlic, onion, paprika, lime juice, oil and honey into a food processor, season with a good pinch of salt and pepper and blend until lovely and smooth. Pour the salsa back into the frying pan over a medium heat, bring to a gentle boil, then reduce the heat to low and simmer gently, stirring occasionally, for 15 minutes. This will allow all the flavours develop.
Heat 2 tablespoons of the oil in a large frying pan over a medium heat and add the fish, skin side down. Cook for 2 minutes, then flip the fillets over, turn off the heat and leave for another 2 minutes to finish cooking.
Meanwhile, heat the remaining tablespoon of oil in a small frying pan over a medium heat and add the Parma ham, if using. Fry really quickly, just 10–20 seconds, or until the ham is lovely and crispy. Stir continuously so that it doesn't burn.
Flake the fish into a large mixing bowl with the salsa, Parma ham, mozzarella, cherry tomatoes, spring onions and cos lettuce. Toss everything together and divide onto the the four tortillas. Roll into a cone shape and serve.