Appears in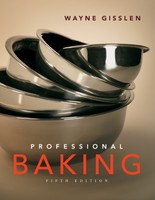 Sugar at 100%
Ingredients
U.S.
Metric
%
Sugar
10
oz
300
g
100
Water
10
oz
300
g
100
Glucose
1.33
oz
40
g
13
Method
Procedure
Make a syrup of the sugar, water, and glucose. for guidelines on cooking sugar syrups.
Boil to 320°F (160°C), then stop the cooking immediately by plunging the base of the pan into cold water. Remove from the cold water and allow to stand 2–3 minutes to thicken slightly.
Wear rubber gloves to protect your hands from the hot syrup. Pour the syrup into a paper cone. Snip off the tip and pipe desired shapes onto a silicone mat or oiled work surface. Allow to cool. Remove and store in an airtight container until use.
For cages, lightly oil the bottom of a ladle. Dip a spoon in the syrup (or, for more delicate sugar, dip the point of a knife in the syrup) and drizzle it in a lace pattern over the bottom of the ladle. Trim off excess with scissors. Let stand 2 minutes, then carefully lift off.
,