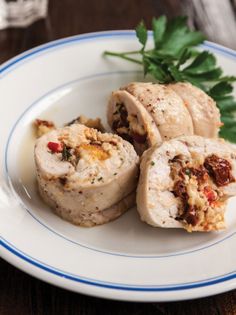 Appears in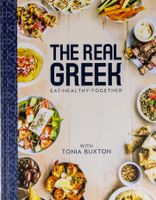 Ingredients
4 boneless, skinless chicken breasts
2 tbsp. olive oil
1 small red pepper, deseeded and finely chopped
4 cloves of garlic, finely chopped
5 large sundried tomatoes, diced
200 g feta cheese, finely crumbled
30 g fresh breadcrumbs (approx. 1 thick slice)
1 tbsp. fresh chopped thyme leaves (or 1 tsp. dried)
Sea salt and freshly ground black pepper
Method
Preheat the oven to 180°C (fan 160°C) / Gas 4.
Lay the chicken breasts between two large sheets of clingfilm. Use a rolling pin to pound them out to approx. 1cm thickness.
Heat the olive oil in a pan and cook the pepper and garlic for 2 minutes, just to soften. Set aside to cool.
In a bowl, combine the tomatoes, feta, breadcrumbs and thyme. Add the pepper and garlic with some of the pan juices to moisten.
Spoon a quarter of the stuffing mix onto each chicken breast, then roll up as tightly as you can, like making a burrito. Use a couple of cocktail sticks or butcher's string to secure.
Place the chicken on a greased baking sheet, and brush with olive oil. Season with a little salt and pepper. Cook for 30–35 minutes. Leave to stand for 5 minutes before slicing through and serving.