Pre-heat the oven to 220°C/425°F/gas 7 and dampen a baking sheet.
Sprinkle icing sugar liberally on to the work surface and give the pastry one more double turn with the sugar. Rest in the fridge for 15 minutes.
Once chilled, sprinkle more icing sugar on to the surface and roll out the pastry to 3 mm (⅛ in) thick. Trim the edges. If this makes a large square, then cut the pastry in half (A) and double turn each strip (B). Rest in the fridge or freezer for 20 minutes until set.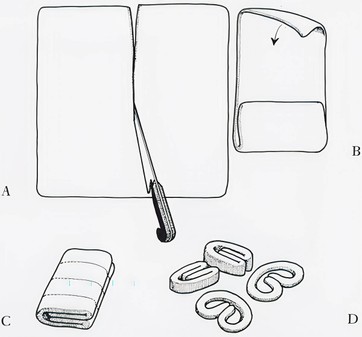 When set, cut each folded strip into pieces about 5 mm (¼ in) thick (C), lay them flat on the work surface, dust with more icing sugar and flatten lightly with a rolling pin (D). Lay them on the baking sheet and cook in the pre-heated oven for about 5 minutes. Turn them over on the tray and cook for a further 5 minutes until golden and crisp. Leave to cool on a wire rack. The biscuits will keep in an airtight container for 24 hours, but are best eaten on the same day.