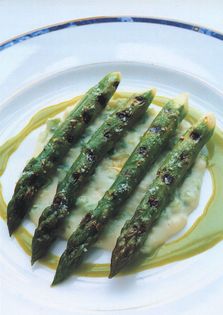 Appears in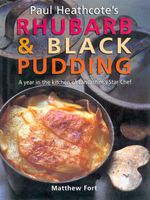 Ingredients
16 large asparagus spears
1 tbsp olive oil
salt and freshly ground black pepper
45 g /1½ oz butter
Method
First make the Chervil Sauce: melt the butter in a heavy-based saucepan over a low heat and sweat the shallots until softened but not coloured. Add the white wine and boil rapidly to reduce by half. Add the chicken stock and reduce by half again. Finally add the cream and reduce until the sauce has the consistency of pouring cream. Pass through a sieve and allow to cool. Pick over the chervil and blanch the leaves in boiling water until soft. In a blender or liquidizer liquidize with the reduced sauce base and pass through a sieve.
Preheat a char-grill or ridged grill pan until very hot. Trim the pointy ears from the asparagus and trim off the stalks to produce spears of uniform length, making sure any remaining grey stalk is removed. Brush the asparagus with oil, season and cook on the char-grill or ridged grill pan for 3 minutes on each side, until nicely seared.
Make the champ: cook the potatoes, still in their skins, in boiling salted water until tender. Drain and, when cool enough to handle, discard the skins and put through a ricer or vegetable mill, or mash well.
In a large pan, mix the milk and cream and bring to the boil. Add the potatoes, mixing continuously until a smooth creamy texture is obtained. Add the spring onions and some seasoning.
To serve: reheat the sauce gently. In the centre of each serving plate place a disc of potato about 5 mm / ¼ inch thick and with a diameter just shorter than the length of the asparagus stalks. Put a small knob of butter in the middle and arrange the asparagus in parallel on top of the potato. Spoon a cordon of the chervil sauce around the potato.