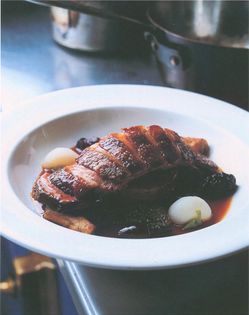 Appears in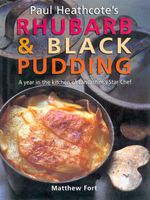 Ingredients
4 salmon fillets, each about 200 g / 7 oz
500 g / 18 oz duck fat
1 tbsp olive oil
12 scallops
salt
good squeeze of lemon juice
Method
First make the Red Wine Sauce as described. Keep warm.
Start preparing the fondant potatoes: put the potato slices in a single layer in a heavy-based pan and cover with water. Add the butter and seasoning. Boil rapidly until all the water has evaporated and only butter is left. Turn down the heat and cook gently until the potatoes are golden. Turn them over and cook the second side until golden. (If the potatoes should stick, don't try to free them by shaking the pan; just take the pan off the heat for a minute and the potato slices will free themselves.)
While the potatoes are cooking, put the duck fat in a pan and heat it up to about 85-90°C/185-195°C (the surface is just bubbling gently). Add the salmon fillets and leave to poach for about 5-10 minutes until just pink in the centre. Remove from the fat and drain well. Keep warm.
When the potatoes and salmon are cooked, put a little oil in a hot frying pan, add the scallops and cook on one side to get them golden-brown and caramelized. Turn the scallops over and cook for a few seconds more on that side. Season with salt and lemon juice.
Arrange the potatoes in the centre of the serving plates with the scallops scattered around them. Season the salmon with salt and lemon juice and place on top of the potato. Spoon some sauce around the plate and serve.