Appears in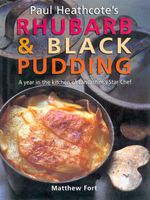 Ingredients
4 duck breasts (use double crowns on the bone, see pages 16-20)
Method
Make the Mead-scented Sauce: preheat the oven to 190°C/375°F/ gas 5 and roast the duck bones until brown, about 20-25 minutes.
In a large heavy-based pan, heat a little oil and brown the shallots, carrot, garlic, celery stalk and thyme until golden. Add the mead and reduce by half. Add the roasted bones and cover with stock or water. Bring to the boil and skim off the fat. Allow to simmer for at least 1 hour, frequently skimming off the fat.
Strain out the bones and vegetables and reduce the stock down until it has a good strong flavour and pouring consistency. Stir in the honey.
Preheat the oven to 230°C/450°F/ gas 8. Roast the duck breasts, skin-side down, for about 14–1 minutes in the hot oven. Allow to rest for at least 10 minutes in a warm place before carving.
While the duck is roasting, make the dumplings: first briefly blanch the onion in a small pan of boiling water. Drain well. Put the butter in a pan and add 300 ml / ½ pint of water. Bring to the boil. Add the flour and beat in well. Take off the heat and, when cooler, slowly add in the eggs. Stir in the blanched onion the chopped meat. Season to taste.
Put the mixture in a piping bag fitted with a 1-cm / ½-inch straight nozzle. Bring a large pan of salted water to the boil and pipe the dumplings into it, snipping off the mixture in short lengths. Poach the dumplings until they float to the surface, about 2 minutes. Remove with a slotted spoon and pat dry with kitchen paper.
Prepare the vegetable garnish: cook the beetroots and parsnips in separate pans of boiling salted water until just tender. Drain well. Heat a drop of oil with the sugar in a frying pan until foaming and toss the apples and parsnips in it. Remove from the heat. In another pan, toss the beetroots in the butter with a very little water.
While the duck is resting, finish the dumplings: heat some oil in a frying pan and fry the dumplings briefly, until golden brown all over, about 45 seconds.
To serve: preheat a hot grill. Carve the duck from the bone as described on pages 16-20. Place the breasts under the grill, skin-side up, and cook until reheated and the skin is crisp.
Slice each breast into 8 pieces, arrange on the plates and season with salt and pepper. Scatter the fondant potatoes, vegetable garnish and dumplings around the plates and pour the sauce over the duck.