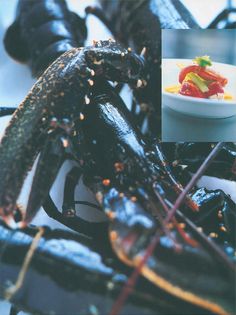 Appears in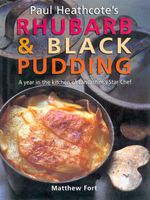 Ingredients
zest of 2 oranges
zest of 1 lemon
1 sprig of thyme
10 rosemary leaves
leafy tops from 2 heads of fennel
2 lobsters, preferably natives, each weighing about 450 g / 1 lb
salt and freshly ground white pepper
2-3 celery stalks, strings removed and cut into long lengths
1 iceberg lettuce, broken up into pieces
knob of butter
a little olive oil
Method
Well ahead, scatter the citrus zest and the herbs on a baking tray and put to dry in a very low oven until totally dehydrated, about 2 hours. Place the dried zest and herbs (including the fennel tops) in a blender or liquidizer and grind to a fine powder.
Cook the lobster in boiling salted water for 4 minutes, remove and drop into a large pan of iced water. When the lobsters are cold, remove all the tail and claw meat from the shell and cut each tail into 6 pieces. Reserve the shell.
Cook the celery in boiling salted water until just tender and refresh in iced water.
Make the lobster juice: preheat the oven to 190°C/375°F/gas 5. Break up the lobster shells with a mallet and roast in the oven for about 20 minutes to concentrate the flavour.
Brown the onion, garlic and vegetables with the thyme in a little oil in a heavy-based pan. When brown, add the brandy and reduce by half. Add the plum tomatoes and reduce again until a thick sauce-like consistency is reached.
Place the roasted lobster shell in the pan, cover with water and simmer until a good strong flavour has developed, about 45 minutes. Pass through a fine sieve and boil to reduce slightly.
Add the cream to the simmering liquid and whisk in the butter. Adjust the seasoning, add a few drops of lemon juice and keep warm.
Place the blanched celery and lettuce in a pan with a very little seasoned simmering water and a knob of butter. Sauté for 20–30 seconds only, then drain off any excess liquid. Keep warm.
Prepare the celery leaves for the garnish: preheat the oil for deep-frying to 140°C/285°F. Carefully drop in the leaves (they are full of moisture, so they will cause spattering and lost of foaming). Cook for 20 seconds only, then remove with a slotted spoon and drain on kitchen paper. Keep warm.
Place a little oil in a very hot frying pan and, when that is very hot, add the lobster pieces and seal them on all sides. Season with the dried citrus zest and sauté for about 1 minute.
To serve: arrange the celery and lettuce around 4 bowls, add the seasoned lobster and pour a little of the lobster juice around each bowl. Garnish with the deep-fried celery leaves.