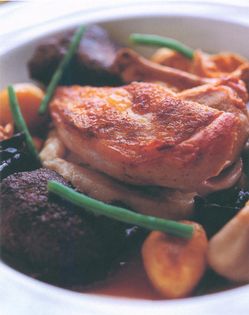 Appears in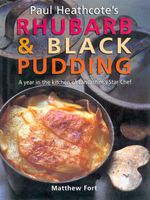 Ingredients
4 breast fillets from corn-fed chicken
a little oil for frying
225 g / 8 oz scrubbed new potatoes
115 g / 4 oz green beans
knob of butter
salt and freshly ground white pepper
Method
First make the cumin sauce: heat the oil in a heavy-based pan and brown the shallots and garlic. Add the cumin and cook briefly. Pour in the wine and deglaze the pan, then boil rapidly to reduce by half. Add the thyme and stock and boil to reduce to a good sauce-like consistency, 20-30 minutes. Strain and keep warm.
Make the Celeriac Purée as described and keep warm.
Preheat the oven to 180°/350°F/gas4. Season the chicken breasts. Heat the oil in an ovenproof pan or casserole over a high heat and cook the breasts, skin side down for about 20 seconds to seal.
Turn the breasts over, place in the oven and roast until cooked, about 10 minutes. Remove from the oven, take the chicken from the pan and allow to rest in a warm place for about 5 minutes before serving.
While the chicken is roasting, cook the potatoes and beans separately in boiling salted water until just tender. Drain well.
At the same time, cook the Spiced Chicken Livers: in a large bowl, mix all the spices together and toss the livers in them to coat. Get the oil good and hot in a large frying pan and seal the livers in it on one side. Turn them over, reduce the heat slightly and cook until firm but still pink in the centre, 2-3 minutes in total.
To serve: reheat the potatoes and beans gently in a little water with a knob of butter. Spoon a pile of the celeriac purée into the centres of 4 semi-shallow bowls, arrange the chicken on top and the chicken livers and potatoes around them. Scatter the beans over and dribble over the sauce.