Appears in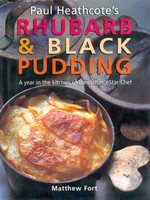 Ingredients
butter, for greasing the ramekins
150 g / 5 oz caster sugar, plus more for the ramekins
2 vanilla pods, split lengthwise
2 tsp cornflour
½ lemon
whites of 6 very fresh eggs
Method
Well ahead, make the White Chocolate Ice-cream: in a large heatproof bowl, cream the egg yolks and sugar until light. Bring the milk and cream to just below the boil and pour over the egg mixture, whisking continuously. Pour the mixture back into the pan and cook until it is thick enough to coat the back of a spoon. Pass through a fine sieve. Add the chocolate and the liqueur, whisking until it has all dissolved.
Place in an ice-cream machine and churn until frozen.
Make the Chocolate Sauce: put 250 ml / 9 fl oz of water, half the sugar and the chocolate in a pan and bring to the boil. Meanwhile, mix the cornflour, cocoa and remaining sugar to a paste with 4 tablespoons of water. Add this paste to the boiling chocolate mixture and cook for about 5 minutes, until thick, stirring frequently. Pass through a sieve and allow to cool.
Make the soufflés: preheat the oven to 180°C/350°C/gas 4 and evenly grease 4 ramekins with butter. Then coat the insides with sugar, shaking out any excess.
Scrape the seeds of the vanilla pods into a pan and add 200 ml / 7 fl oz water. Bring to the boil. Mix the cornflour with a little water, stir this in and simmer briefly until thick and smooth.
Ensure that your whisk and mixing bowl are free from grease, then rub the sides of the bowl with the cut side of the lemon. Place the egg whites in the bowl (also ensuring there are NO yolk particles) and start to whisk. Gradually add the sugar as you whisk, until the meringue mixture is standing in soft peaks. Stir in the juice from the half lemon.
Take one-third of the meringue and whisk it into the thickened vanilla mixture, then lightly fold in the remaining meringue. Do this gently so the air is not knocked out of the mixture.
Spoon a little of the chocolate sauce into the bottom of the ramekins and top up with the soufflé mix. Smooth the surface and run your thumb around the inside of the rims to ensure that the sides will rise straight. At this stage, the soufflés can be held in the fridge for a number of hours until needed.
Space the soufflés out on a baking tray and bake for 10–15 minutes, depending on the size of the ramekins, until well risen.
While the soufflés are baking, transfer the ice-cream to the fridge to soften slightly.
Serve the soufflés as soon as they are cooked, with the white chocolate ice-cream.