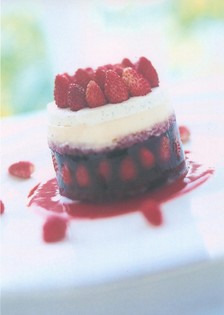 Appears in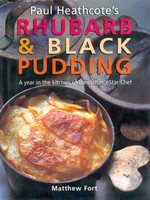 Ingredients
butter for greasing the ramekins
about 225 g / 8 oz caster sugar, plus more for the ramekins
500 g / 1 lb 2 oz strawberries
1 tsp cornflour
whites of 4 eggs
Method
Well ahead, make the Roasted Almond Ice-cream: preheat the oven to 150°C/300°F/gas 2. Roast the flaked almonds in the oven until golden, about 15 minutes (keep an eye on them, as they can burn fast).
Put the roasted almonds in a pan with the milk and cream, bring to just below the boil and leave to infuse off the heat for 30 minutes. Pass through a fine sieve and discard the almonds.
Whisk the egg yolks and sugar together in a heatproof bowl until light. Reheat the almond-flavoured milk mixture and pour over the egg mixture. Pour back into the pan and cook, stirring continuously, until the custard is thick enough to coat the back of a spoon. Remove from the heat. Pass through a fine sieve and allow to cool.
Churn in an ice-cream maker until frozen.
Make the soufflés: preheat the oven to 180°C/350°F/gas 4 and grease 4 ramekins with butter, then dust the buttered insides with sugar, shaking out any excess.
Put half the sugar in a pan with the strawberries and a little water. Simmer for about 5–10 minutes.
Liquidize in a blender or food processor, then pass through a sieve to remove the seeds. Adjust the sweetness with a little more sugar, if necessary, and cook until it has a good pouring consistency.
Thicken 4 tablespoons of the resulting coulis with the cornflour. Beat the egg whites to a meringue with the remaining sugar. Make a paste with the coulis and a little of the meringue and then fold in the rest of the meringue.
Pour into the soufflé dishes and bake until fully risen, 10–12 minutes.
Serve the soufflés as soon as they are ready, with the ice-cream on a side plate surrounded by a cordon of the remaining strawberry coulis.