Appears in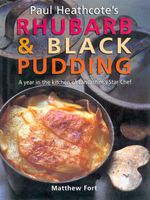 Ingredients
¼ onion, finely chopped
1 carrot, finely chopped
1 celery stalk, finely chopped
1 garlic clove, finely chopped
100 g / 3½ oz. game trimmings, finely chopped
4 juniper berries, finely chopped
whites of 3 eggs
2 litres / 3½ pints game stock (make it like that for the venison on page 160, using any game trimmings or carcasses)
salt and freshly ground black pepper
Method
First make the Herb Dumplings: seal the chopped game meat briefly in a very little oil over a high heat. Let it cool slightly. Mix the flour and suet together, add the herbs and game meat and bind together with about 5 tablespoons of water. Season the mixture and roll into 3-cm / 1¼-inch dumplings. Cook the dumplings in game stock or water for about 7-10 minutes, until they are fluffy.
Make the tea of game: in a large bowl, mix all the vegetables, game trimmings and juniper berries. Add the egg whites and mix in well.
Stir the vegetable mixture into a pan containing the cool game stock and put over a high heat. Stir regularly, until almost at boiling point a thick crust forms on top. When a crack appears in this crust, take a ladle and enlarge the hole with it so it is big enough for the ladle to fit through. As it simmers, keep pouring the liquid over the top of the crust to clarify it. Taste the stock, season it and, when it has a good strong flavour, pass it through a muslin-lined sieve.
Reheat the strained tea of game gently with the dumplings in it and serve immediately.