Appears in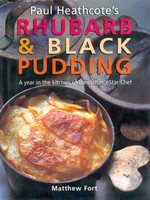 Ingredients
150 g / 5 oz Carolina pudding rice
1 litre / 1¾ pints milk
1 vanilla pod
5 tbsp hazelnut oil
4 eggs
125 g / 4½ oz caster sugar
Method
Well ahead of time, make the Honey Ice-cream: put the cream and milk together in a pan with the vanilla pod and bring to just below the boil. Cream the egg yolks and sugar together until pale and frothy. Pour the boiling cream and milk over the creamed mixture, whisking continuously. Pour the mixture back into the pan and cook until it coats the back of a spoon. Pass through a fine sieve, then whisk in the honey until it is well combined.
Place in an ice-cream machine and churn until frozen. Freeze for at least 4 hours.
Soak the rice in cold water for about 1 hour.
Drain the rice and put it in a heavy pan with the milk, vanilla pod and oil. Bring to a simmer and cook until the rice is tender, about 20 minutes.
Cream the eggs and sugar together until light.
Bring the rice to a rolling boil and stir in the egg and sugar mixture. Leave to cool. Remove the vanilla pod.
Preheat a hot grill. Put the rice pudding mixture in ramekin dishes and grill briefly to colour the tops and warm through.
Serve with a side dish of the ice-cream.