Appears in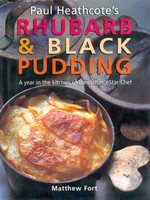 Ingredients
6 Granny Smith apples
2 tsp ground cinnamon
3 tbsp brandy
125 g / 4½ oz soft brown sugar
12 thin slices of bread
125 g / 4½ oz butter, melted
Method
Well ahead, make the Caramel Ice-cream: put the milk and cream in a pan with the vanilla pod and bring to the boil.
In a large bowl, cream 100 g / 3½ oz. of the sugar with the egg yolks, then pour the boiled milk and cream mixture on the yolk mixture. Pour back into the pan and cook, stirring continuously, until the custard is thick enough to coat the back of a spoon.
In a heavy-based pan, dissolve the remaining sugar in 3 tablespoons of water. Bring to the boil and cook to a dark caramel. Add another 150 ml / ¼ pint of cold water to stop the sugar from cooking any further and make a syrup.
Add the cooled caramel syrup to the custard and churn in an icecream machine until frozen.
Make the English Custard: in a bowl, cream the egg yolks and sugar together until light.
Split the vanilla pod lengthwise and scrape the seeds into a pan. Add the milk and cream and bring to the boil. When the mixture has boiled, add a little of it to the eggs and whisk in. Return all the mixture to the pan and gently heat, stirring continuously, with a wooden spoon, until it has a good sauce-like consistency (if the mixture curdles or splits, simply liquidize it until smooth). Pour through a sieve and allow to cool, covered with cling-film (punctured with a few holes) to prevent a skin forming.
Prepare the Caramelized Fruits: heat a pan, put in a drop of oil and add the icing sugar. When it starts to froth, add the sliced fruits and toss in the pan (you may have to do this in batches). When they are soft and golden, remove from the heat and allow to cool.
Preheat the oven to 190°C/375°F/gas 5. Peel the apples, core them and cut the flesh into 1-cm / ½inch dice. Place in a very hot dry pan and sauté for about 30 seconds. Add the cinnamon and brandy, then add the sugar and cook for a further 10 minutes.
Cut the bread into 8 circles the same diameter as the ramekins to be used as charlotte moulds and strips the height of the sides of the ramekins. Dip them into the melted butter and use to line the ramekins.
Fill the lined moulds with the apple mixture, seal with a final round of bread and bake in the oven until crisp and golden, about 20-25 minutes. Allow to cool slightly and then turn out of their moulds.
To serve: arrange some caramelized fruit on each plate with some of the ice-cream on top. Place a charlotte to the side of each plate, set on top of a pool of the custard.