Appears in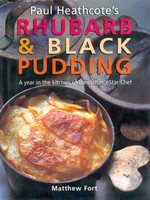 Ingredients
4 Granny Smith apples
4 discs of puff pastry, about 15 cm /6 6 inches across and 4 mm / 1/16 inch thick
Icing sugar, to glaze
Method
Well ahead, ideally the day before, make the Gingerbread: preheat the oven to 190°C/375°F/gas 5 and grease a 23-cm / 9inch cake tin with butter, then dust the insides with flour. In a small pan, melt the butter with the syrup. In a large bowl, mix the remaining ingredients together and then stir the melted butter mixture into that. Spoon the mixture into the prepared cake tin and allow to rest for about 20 minutes.
Bake the gingerbread for about 20 minutes, until golden on top. Allow to cool.
Make the Gingerbread Ice-cream: break up 75 g / 2¾ oz. of the cooked gingerbread into a mixing bowl. Bring the milk to the boil in a pan and pour it over the gingerbread. Leave for 1 hour to allow the gingerbread to dissolve in the milk.
Put the milk back on to heat to boiling. In a mixing bowl, whisk the egg yolks and sugar together until light. Pour the boiling milk mixture over the egg mixture and mix well. Return to the pan and simmer until smooth, about 5 minutes. Pass through a sieve and allow to cool.
When cool, churn in an ice-cream maker until just firm, then stir in 25 g / 1 oz. more crumbled gingerbread and freeze for at least 1 hour more.
About 45 minutes before you want to serve, preheat the oven to 190°C/375°F/gas 5.
Make the Cider Butter: peel and core the apples, then chop the flesh roughly. Cook in the cider with the sugar until tender. Liquidize until smooth, then pass through a sieve and whisk in the butter while it is still warm. Adjust the sweetness with more sugar if necessary.
While the apples are cooking, make the syrup: heat the sugar in 200 ml / 7 fl oz. water with the remaining ingredients. When all the sugar has dissolved, bring to the boil and boil rapidly for about 10 minutes. Keep warm.
Make the tarts: peel and core the apples, then slice them thinly. Arrange the slices overlapping over the centre of pastry discs, leaving a clear edge of pastry about 5 mm /¼ inch wide. Spoon the syrup over the apples.
Dust with icing sugar and bake for about 15 minutes, until golden.
To serve: place a warm tart in the centre of each of the serving plates, then spoon a cordon of the cider butter around it. Place some icecream on top of each tart and serve immediately.