Appears in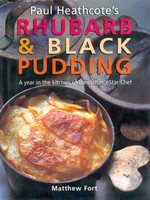 Ingredients
12 small slices of bread roll
knob of butter
2 Gedi goats' cheese logs, each cut into 12
about 20 walnut halves
several good sprigs each of tarragon, basil, celery leaves and flat-leaved parsley, as much of the stalks removed as possible
vegetable oil, for deep-frying
200 g / 7 oz salad leaves
Method
Preheat the oven to 190°C/375°F/gas 5 and preheat oil for deep-frying to 140°C/285°F.
In another pan, fry the croutons in a little butter until golden.
Place a piece of cheese on each crouton and bake in the oven for about 5 minutes until melted and bubbling.
At the same time, roast the walnuts in the oven for about 5 minutes to increase their flavour.
Make the Nut Dressing: mix all the ingredients together well until emulsified. (These quantities will make more than you need, but the dressing keeps well in a screw-top jar in the fridge and can be used on a wide range of salads.)
Prepare the herbs for the garnish: carefully drop them into the hot oil (be careful, they are full of moisture, so they will cause spattering and lots of foaming). Cook for 20 seconds only, then remove with a slotted spoon and drain on kitchen paper.
Dress the salad leaves with about 4 tablespoons of the dressing and arrange these in the centre of each plate. Arrange the nuts and deep-fried herbs around it. Place the baked cheese on top and pour on a little more nut dressing.