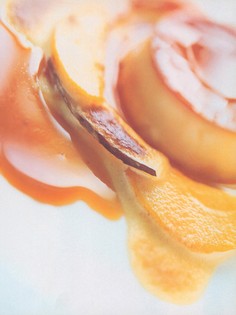 Appears in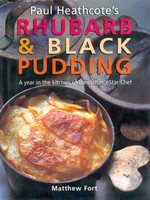 Ingredients
175 g / 6 oz caster sugar
2 eggs, plus 2 extra yolks
500 ml / 18 fl oz coconut milk or purée
1 vanilla pod
Method
Make a caramel by stirring 100 g / 3½ oz. of the sugar with 2 tablespoons of water in a heavy-based pan, bring to the boil and cook until it becomes a golden caramel. Pour into the bottoms of 4 dariole moulds and leave to set.
Preheat the oven to 130°C/275°F/gas 1. In a large bowl, cream the eggs and remaining sugar together until light.
Put the coconut milk or purée in a pan with the vanilla pod and bring to just below the boil. Pour on to the egg mixture, stir well and then pass the mixture through a fine sieve. Skim off the foam and pour the mixture into the moulds.
Place them in a bain-marie half-filled with hot water. Cover with foil and cook in the oven for about 25-30 minutes.
While the coconut creams are cooking, prepare the Caramelized Fruits as described. When the coconut creams are cooked, allow them to cool slightly before turning out of their moulds.
While the creams are cooling, make the Rum Sabayon: place all the ingredients in a metal mixing bowl with 2 tablespoons of water and set it over a bain-marie filled with hot water. Whisk together until the egg yolk is cooked and the mix has almost doubled in size.
Preheat a hot grill. Spoon the sabayon over the caramelized fruits and glaze under the hot grill for about 30 seconds until lightly coloured.
To serve: arrange the caramelized fruits in a circle around each plate and spoon the rum sabayon over them. Set a coconut cream in the centre.