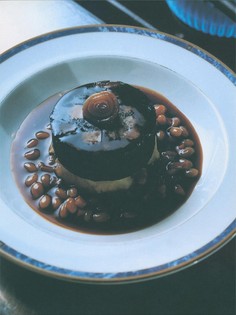 Appears in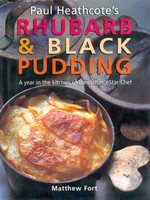 Ingredients
60 g / 2¼ oz oat flakes
750 g / 1¾ lbdried pigs' blood
1 onion, chopped
250 g / 9 oz caster sugar
500 g / 1 lb 2 oz sultanas
250 g / 9 oz pork back-fat, cut into small dice
300 ml / ½ pint champagne vinegar
sprig of rosemary, chopped
sprig of thyme,chopped
4 bay leaves, chopped
salt and freshly ground black pepper
2 kg / 4½ lb lambs' sweetbreads,
blanched and skinned
a little oil, for frying
1 large carrot, diced, for garnish
Method
The day before, start preparing the Baked Beans: soak the dried haricot beans overnight in cold water.
Next day, drain the beans. Put them in a pan with the onion, thyme and chicken stock and bring to the boil. Reduce the heat to a simmer and cook for about 30 minutes, until tender. Drain.
In large bowl, mix the oats with the dried blood and mix into 1.25 litres / 2¼ pints of water at approximately 50°C/120°F. Allow to stand for 20 minutes. (Occasionally, some dehydrated blood can make a thicker mixture than you need – you are aiming for a thick tomato ketchup consistency– if so, add a little more water.)
Put the onion, sugar, sultanas, pork fat and vinegar into a heavy-based pan and cook over a moderate heat until the mixture becomes thick and syrupy.
Add to the blood mix, then add the chopped herbs and some seasoning.
Fry the sweetbreads in oil until golden and add to the blood mix.
Put the mixture into black pudding sleeves and poach in a large pan of simmering water for about 20 minutes.
Make the Bay Leaf Sauce: sweat the shallots and garlic in the butter in a pan over a gentle heat.
Add the port and Madeira and reduce by two-thirds. Add the red wine and reduce by a half. Add the veal glaze, bring to the boil, skim and cook until a thick sauce-like consistency is reached. Pass through a fine sieve and keep warm.
While the sauce is reducing, make the Crushed Potatoes: boil the potatoes in their skins until cooked. Drain and, when cool enough to handle, peel them.
In a bowl, crush the potatoes together with the butter, using the back of a fork. Season with salt and pepper.
Cook the carrot for garnish in boiling salted water until just tender, refresh in cold water and drain. Just before serving reheat gently in a little butter.
Preheat a hot grill. Cut the black pudding into 2-cm / ¾-inch-thick slices, brush the slices with butter and reheat briefly under the grill.
Put a pile of potato in the middle of each of 4 flat soup bowls, then place a slice of the black pudding on top. Scatter the beans and carrot around the plate and spoon over some sauce.