Appears in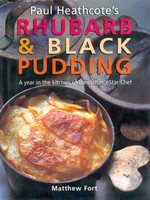 Ingredients
24 oysters
crushed ice, sea salt or blanched seaweed as a bed for the oysters
bunch of large-leaf watercress
½ leaves of gelatine, soaked in cold water
250 ml / 9 fl oz Clear Chilled Tomato Juice
4 tbsp whipping cream
juice of ½ lemon
salt and freshly ground white pepper
Method
Open the oysters, remove them from their shells and drain in a sieve (the juices can be retained for a stock or sauce). Rinse gently in cold running water to remove any grit, then pat dry gently with a clean cloth. Scrape and clean the deep shells. Set them on plates nestling on beds of crushed ice, sea salt or blanched seaweed.
Pick over the watercress, leaving very little stem. Blanch in boiling salted water, then refresh in iced water. Drain and dry on kitchen paper.
Cover the inside of the cleaned deep oyster shells with the watercress and place an oyster on top of the cress.
Drain the gelatine and warm in a pan with a little of the tomato juice. When it has cooled, pour into the rest of the juice and then pour this over the oysters. Leave to set, about 1 hour.
Prepare the cucumber for garnish: lay the cucumber dice on a plate and put in the freezer.
Whip the cream to thick pouring consistency, add the lemon juice, season and add two-thirds of the chives.
To serve: put a little of the soured cream on top of each oysters and garnish with the rest of the chopped chives, the chopped tomato and the diced cucumber.