Appears in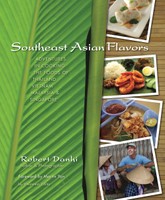 Ingredients
1 cup Rendered pork fat, lard or vegetable oil
¼ lb. (113 g.) Pork shoulder, small bite size thin slices, about ⅛ inch (0.3 cm.) thick
¼ lb. (113 g.) Small shrimp, peeled and deveined, sliced in halves lengthwise
¼ tsp. Kosher salt
½ cup Sliced yellow onion, about ⅛ inch (0.3 cm.) thick
1 to 2 med. Long red chilies, sliced thinly into rings, about ⅛ inch (0.3 cm.) thick
¾ cups Sliced mushrooms, ⅛-inch (0.3 cm.) slices
2 cups Bean sprouts, trimmed
Method
Prepare your tools: Preheat oven to 250°F (121°C). Line a baking sheet with several layers of paper towels. Place 4 oz. ladle or ½ cup measuring cup with batter. Get a heatproof rubber or wooden spatula.
Toss pork and shrimp in salt. Then divide into 6 small bowls, along with onions and mushrooms.
Make pancakes one by one (or use several pans at once):

Heat a 10-inch (25 cm.) non-stick sauté pan or cast-iron skillet (you will need a cover for this pan) over high heat. Add 1 tbsp. lard, and then add one portion of pork, shrimp, onions and mushrooms. Stir-fry until pork and shrimp lose raw appearance. Distribute items on bottom of skillet evenly.
Stir batter to redistribute settled flour. Slowly ladle ½ cup of batter into pan, trying not to disturb the cooked items there. Swirl pan to coat bottom, allowing batter to ride ¼–½ inch (0.6–1 cm.) up the side of pan. Stop swirling once the edges set. Immediately distribute bean sprouts over half the crepe. Cook until edges begin to dry up and peel back from pan. Drizzle 1 tbsp. fat around outer edge of crepe, allowing it to run under crepe edges. Lower heat to medium.
Cover pan; cook 1 minute. Remove cover; continue to cook until edges begin to brown. Loosen pancake from bottom of pan with spatula. It should be sizzling; add oil if needed. Cook until bottom is light brown and crispy. Fold crepe to encase bean sprouts.
Transfer crepe to towel-lined pan; set in oven to keep warm. Repeat with remaining batter and fillings.