Make Filling
If using dried beans, drain soaking water. Place in a pot with 3 cups of clean water and simmer for ½ hour. Add the anise pod and simmer for another ½ hour, until very tender. (If using canned beans, drain in a colander, rinse with cold water. Place in a pot with 3 cups of clean water and the anise pod and simmer for 15 minutes.)
Drain the beans, remove the anise pod and discard. Place beans in a food processor and puree until smooth. Push the pureed bean mixture through a fine mesh sieve to remove any remnants of skin. Discard skins.
Combine the bean puree and sugar in a saucepan and place over low heat. Simmer, stirring often, until sugar is dissolved and mixture resembles a thick paste, about 15 to 20 minutes. Remove from heat, stir in the mixed essence, and set aside.
Make The Pastry
Combine the flour and salt in a mixing bowl or the bowl of a food processor. Using a pastry cutter, your fingers, or the pulse setting on the food processor, cut in the butter until pea-sized balls form. Add ice water in a thin stream, mixing until a shaggy, dry dough just forms (add just enough water so no flour remains but the dough is far from sticky). Wrap and chill in the refrigerator for 1 hour.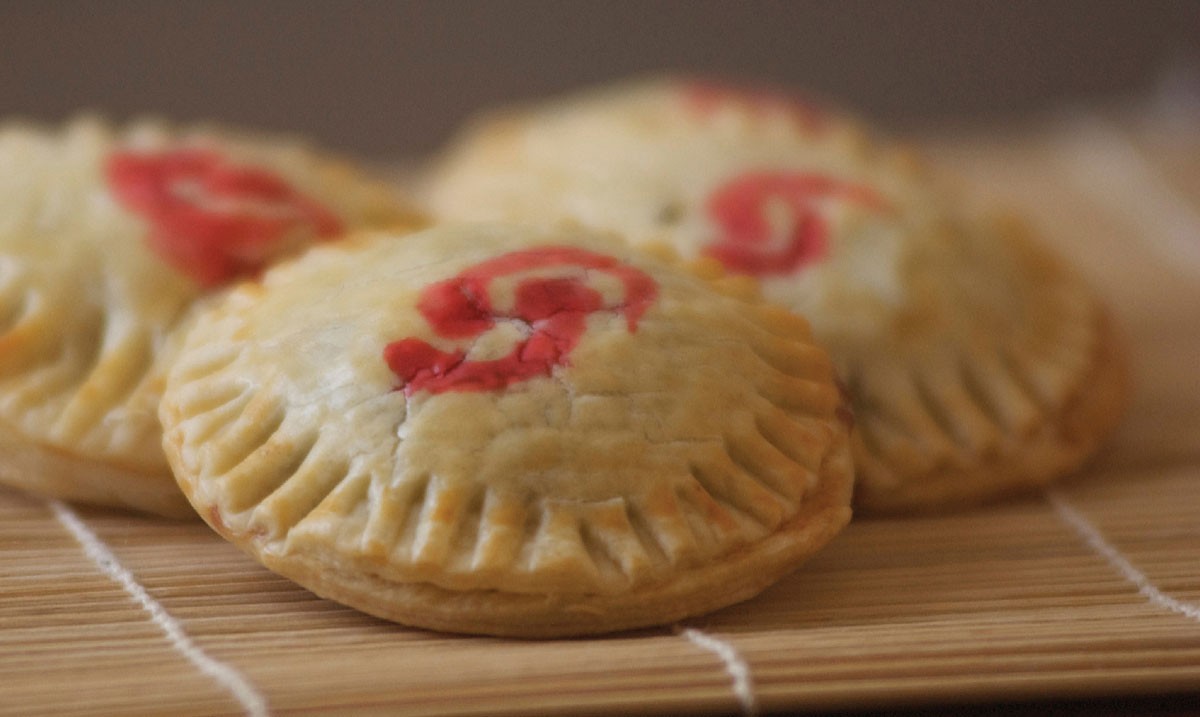 Assemble & Bake
Remove the dough from refrigerator and cut into 8 pieces. Form each piece into a small ball and roll out to a ¼-inch-thick disk.
Place 1 tablespoon of the bean mixture in the center of a disk and brush the edges with egg wash. Place another dough disk on top and using a fork or your finger, press the seams closed. Repeat with remaining dough disks. Place cakes on a baking sheet lined with parchment paper and chill in the refrigerator for 15 minutes.
Preheat the oven to 350°F. Remove the baking sheet with the cakes from the refrigerator and brush the cakes with egg wash. Place in the oven and bake for 25 to 30 minutes or until they turn golden brown. Remove and cool.
Once cool, dip the paintbrush in the red food coloring and paint a ½-inch-wide circle or design of your choice onto the center of each cake. Serve.