Appears in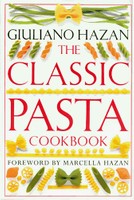 Total Time from Start to Finish: 35 minutes
Ingredients
1 pound penne
4 whole garlic cloves, lightly crushed and peeled
3 tablespoons extra virgin olive oil
2 red peppers, peeled, core and seeds removed and cut into ¾-inch squares
½ pound Swiss chard leaves, roughly chopped
Salt
Freshly ground pepper
2 tablespoons butter
2 tablespoons balsamic vinegar
⅓ cup parmigiano-reggiano, freshly grated
Method
Fill a pot for the pasta with about 6 quarts of water, cover, and place over high heat.
Peel and cut the peppers. Put the garlic cloves and olive oil in a 12-inch skillet over medium high heat. Cook the garlic cloves until they are lightly browned on all sides then discard them.
Add the peppers and cook, stirring often, until they are lightly browned, about 5 minutes. Wash the Swiss chard. Remove the leaves from the stalks and coarsely chop them. When the peppers are ready, turn the heat down to medium and add the Swiss chard, 2 tablespoons water. Season with salt and pepper and cook until the peppers and the swiss chard are tender, 8 to 10 minutes. Remove from the heat and set aside.
Add about 2 tablespoons salt to the boiling pasta water, add the maccheroni, and stir well. When the pasta is cooked al dente, return the sauce to a low heat and add the butter. Drain the pasta well and toss with the sauce. Add the Parmigiano cheese and the balsamic vinegar, mix well and serve at once.
Also good with:
© 1993 Giuliano Hazan. All rights reserved.