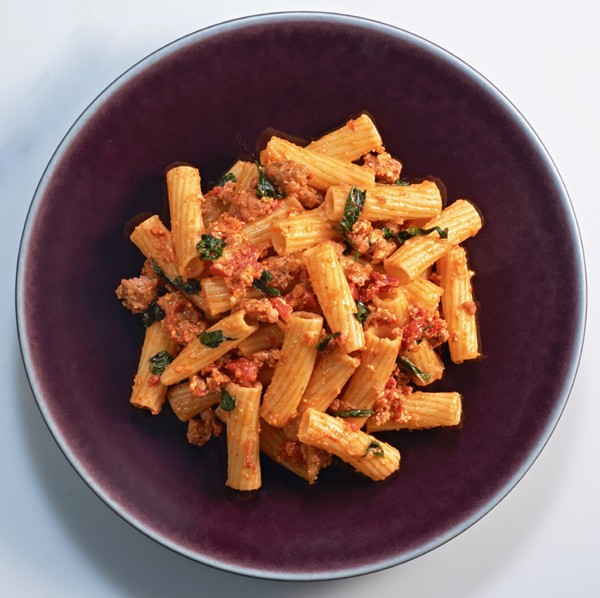 Appears in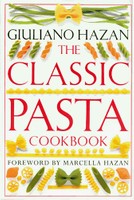 Ingredients
3 tablespoons butter
½ cup yellow onion, finely chopped
½ pound mild pork sausage
1 cup canned whole peeled tomatoes with their juice, coarsely chopped
Salt
Freshly ground black pepper
1 pound maccheroni
½ cup whole milk ricotta
12. fresh basil leaves
¼ cup Parmigiano-Reggiano, freshly grated
Method
Put the butter and the onion in a 10-inch skillet, place over medium high heat and Sauté until it turns a rich golden color, about 5 minutes.
While the onion is Sautéing, remove the casing from the sausage and break it up into small pieces. When the onion is ready, add the sausage and cook until it has lightly browned. Add the tomatoes, season lightly with salt and pepper and continue cooking until the tomatoes have reduced and separated from the oil, 20 to 25 minutes. Remove from the heat and set aside.
Fill a pot for the pasta with about 6 quarts of water, cover, and place over high heat. When the water boils, add 2 tablespoons salt to the boiling pasta water, add the maccheroni, and stir well. Cook until al dente.
Just before the pasta is done, return the sauce to a medium low heat, add the ricotta and basil, and stir until it is evenly mixed in. When the pasta is done, drain well, and toss with the sauce and the Parmigiano-Reggiano cheese. Serve at once.
Also good with: