Appears in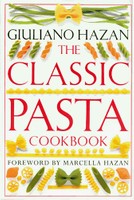 Time from Start to Finish: one hour
Ingredients
2 cups sweet yellow onion, thinly sliced crosswise
4 tablespoons extra virgin olive oil
⅛ teaspoon crushed red pepper
Salt
2 red peppers, peeled, cored, seeded, and cut into strips ¼-inch wide
2 yellow peppers, peeled, cored, seeded, and cut into strips ¼-inch wide
1 cup canned whole peeled tomatoes with their juice, coarsely chopped
1 tablespoon flat leaf Italian parsley, finely chopped
1 pound ruote di carro
Method
Peel, halve, and thinly slice the onion crosswise. Put it with the olive oil crushed red pepper, and a little salt in a 12-inch skillet over medium heat. Cook, stirring occasionally, until the onion has wilted and turned a rich golden color, about 15 minutes.
While the onion is Sautéing, peel and cut the peppers. When the onion is ready, raise the heat to medium high and add the peppers. Cook, stirring occasionally, for 2 minutes. Add the tomatoes, season with a little salt, and cook until the tomatoes are no longer watery and have separated from the olive oil, 20 to 30 minutes.
While the tomatoes cook, finely chop the parsely. Fill a pot for the pasta with about 6 quarts of water, cover, and place over high heat.
When the tomatoes are ready, add the parsley, stir for about 30 seconds then remove from the heat and set aside. The sauce may be prepared ahead of time up to this point.
Add about 2 tablespoons salt to the boiling pasta water, put in the cartwheels, and stir well. When the pasta is done, drain well, toss with the sauce and serve at once.
Also good with:
© 1993 Giuliano Hazan. All rights reserved.