Appears in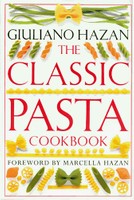 Ingredients
¾ cup sweet yellow onion, thinly sliced crosswise
⅛ teaspoon crushed red pepper
4 tablespoons extra virgin olive oil
Salt
1 cup eggplant, peeled and ½-inch diced
1 teaspoon garlic, finely chopped
1 cup zucchini, washed and ½-inch diced
½ cup red pepper, peeled, core and seeds removed and cut in 1-inch squares
½ cup yellow pepper, peeled, core and seeds removed and cut in 1-inch squares
½ cup fresh tomatoes, peeled and ½-inch diced
1 pound fusilli
Method
Fill a pot for the pasta with about 6 quarts of water, cover, and place over high heat.
Peel, halve, and thinly slice the onion crosswise. Put it with the crushed red pepper, olive oil and a little salt in a 12-inch skillet and place over medium heat. Cook until the onion has wilted and turned a rich golden color, about 10 minutes.
While the onion is Sautéing, peel and cut the eggplant and finely chop the garlic. Begin preparing the zucchini and peppers.
When the onion is ready, add the garlic, cook for about 30 seconds, then add the eggplant and season lightly with salt. (Do not worry if the eggplant soaks up all the oil, it will release it once it is cooked). Cover the pan and cook until the eggplant softens, about 5 minutes.
Uncover the pan and add the zucchini and peppers. Season lightly with salt and cook, stirring often, until the vegetables start to become tender, about 10 minutes.
While the vegetables are cooking, peel and cut the tomatoes.
Add the tomatoes to the sauce, season them lightly with salt, and continue cooking until they begin to break down, about 8 minutes.
While the tomatoes are cooking, add 2 tablespoons salt to the boiling pasta water, put in the fusilli, and stir well. Cook until al dente. When the pasta is done, drain well, toss with the sauce and serve at once.
Also good with: