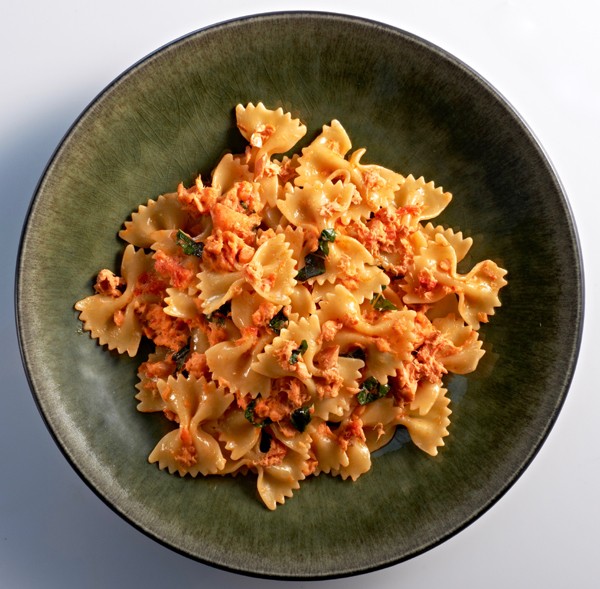 Appears in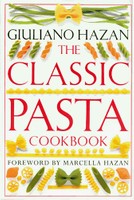 Total Time from Start to Finish: 1 hour and 15 minutes
Ingredients
2 red peppers
2 cloves of garlic, peeled
1 pound farfalle
1 cup heavy cream
8 ounces flake smoked salmon(not lox), broken up into small pieces
Salt
Freshly ground black pepper
2 tablespoons fresh basil, coarsely chopped
Method
Roast the red peppers over an open flame or under the broiler until the skin is charred on all sides. Place them in a plastic bag and tie it shut. After about 20 minutes take the peppers out, cut them in half, remove the core and scrape away the skin and the seeds. Do not rinse them or try to peel them under running water or you'll wash away the flavor. Place the peppers and the garlic in a food processor and chop until creamy. Remove and set aside.
Fill a pot for the pasta with about 6 quarts of water, cover, and place over high heat. When the water boils, add 2 tablespoons salt and the farfalle. Stir well and cook until al dente.
Put the roasted red pepper puree, the cream and the smoked salmon in a 12-inch skillet and place over medium high heat. Season with salt and pepper (go light on the salt if the salmon is already quite salty) and cook until the cream has reduced by a third. Stir in the basil and remove from the heat.
When the pasta is cooked al dente, drain well and toss with the sauce. Taste for salt and serve at once.
Also good with:
© 1993 Giuliano Hazan. All rights reserved.