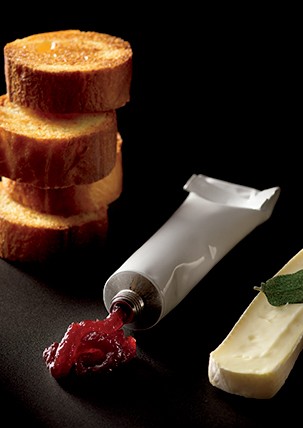 Appears in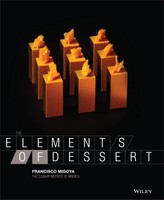 Ingredients
Calcium Solution
Calcium lactate 2 g .07 oz 1.8%
Water 120 g 4.23 oz 98.2%
Cherry Jam
Cherry purée (see Notes) 350 g 12.35 oz 86.21%
Sugar 50.g 1.76 oz 12.32%
Calcium Solution 4 g .14 oz .99%
Universal pectin (pectin NH 95) 2 g .07 oz .49%
Method
For the calcium solution: Combine both ingredients using a handheld blender to dissolve the calcium. Reserve refrigerated.
For the cherry jam: Boil the cherry purée, 80 percent of the sugar, and the calcium solution in a small sauce pot. In the meantime, combine the remaining sugar with the pectin to obtain an even mixture.
Add the pectin-sugar mixture to the jam by shearing it in with a handheld blender.
Return to a boil for 1 minute while stirring with a whisk.
Pour the hot jam into a half hotel pan to cool at room temperature.
Once it is cool, fill each of the 10 tubes with 30 g/1.06 oz of the jam. See Note below.
Close the tubes and reserve them at room temperature if using for that day's service. If not, keep them refrigerated for up to 2 weeks.