Appears in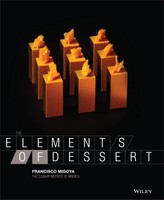 Ingredients
Ground dried organic rose petals 10 g .35 oz 1.94%
Strawberry powder 10 g .35 oz 1.94%
Beet powder 5 g .18 oz .97%
All-purpose flour 125 g 4.41 oz 24.22%
Eggs 220 g 7.76 oz 42.64%
Sugar 125 g 4.41 oz 24.22%
Salt 1 g .04 oz .19%
Butter, melted but cool 20 g .71 oz 3.88%
Method
Lightly spray a quarter sheet pan with nonstick oil spray. Line it with a nonstick rubber mat.
See the procedure for the Jasmine Tea Cake. Combine the ground dried organic rose powder, strawberry powder and the beet powder with the allpurpose flour before sifting. Sift together.
Once the cake has cooled, refrigerate it. This will help you make a clean cut with almost no crumbs when you cut the cake.
Cut the cake into rectangles that measure 5 cm/2 in wide by 15 cm/6 in long by 2 cm/.75 in high. Reserve covered with a damp, clean towel at room temperature during service to keep them moist and tender. If you keep the cakes refrigerated, they will not have as good a texture as they will if kept at room temperature.