Appears in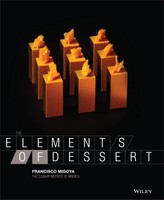 Ingredients
Milk chocolate 200 g 7.05 oz 50%
Cocoa butter 200 g 7.05 oz 50%
Method
Preheat a convection oven to 120°C/250°F.
Place the chocolate in a hotel pan in the warm oven.
Leave the chocolate in the oven for 2 hours, stirring it every 30 minutes.
Transfer the chocolate to a mélangeur to refine the chocolate (it gets somewhat grainy during the cara-melization process). Add the melted cocoa butter and refine the chocolate for 3 hours.
While fluid, it can be used to spray the panna cotta; otherwise, reserve in a cool, dry place in an airtight container for up to 1 year.