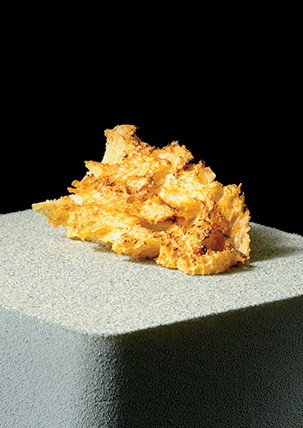 Appears in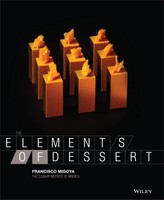 Ingredients
Toffee
Salted butter 100 g 3.53 oz 33.9%
Sugar 170 g 5.98 oz 57.63%
Water 25 g .88 oz 8.47%
Shortbread Base
All-purpose flour 360 g 12.7 oz 25.53%
Almond flour 220 g 7.76 oz 15.6%
Confectioners' sugar 180 g 6.35 oz 12.77%
Salt 10 g .35 oz .71%
Butter 220 g 7.76 oz 15.6%
Butter, melted but cool 120 g 4.23 oz 8.51%
Toffee pieces 300 g 10.58 oz 21.28%
Method
For the toffee: Line a half sheet pan with a nonstick rubber mat.
Combine the butter, sugar, and water in a sauce pot and cook over medium-high heat until the mixture reaches 152°C/305°F. Immediately pour onto the prepared sheet pan. Let it cool and break into small pieces, about 3 mm/.12 in size, using a knife.
If not using immediately, place inside a zip-top bag or an airtight container. The toffee will keep indefinitely if stored in a cool, dry place in an airtight container.
For the shortbread base: Line a flat sheet pan with a nonstick rubber mat. Place a 6-mm/.25-in-deep frame over the mat.
Follow the procedure for the shortbread cookie. Once the second amount of butter has been added, mix in the toffee pieces by hand in a bowl.
Pour the contents of the bowl into the frame and even it out using a rolling pin. Freeze.
Cut out 4 squares measuring 14 cm/5.5 in on each side.
Reserve the squares frozen until needed. Save any remaining shortbread for future use.