Appears in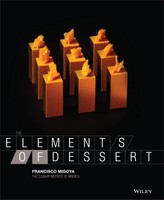 Ingredients
Almond paste 480 g 1 lb 1.93 oz 37.3%
Praline paste 120 g 4.23 oz 9.32%
Eggs 375 g 13.23 oz 29.14%
Invert sugar 53 g 1.85 oz 4.08%
Salt 5 g .16 oz .35%
All-purpose flour 90 g 3.17 oz 6.99%
Butter, melted but cool 165 g 5.82 oz 12.82%
Method
See the procedure for black sesame Genoa bread. Substitute praline paste for black sesame paste.
Once the cake has cooled, cut it into rectangles measuring 5 cm/2 in wide by 25 cm/10 in long by 1.25 cm/.5 in deep.
Reserve in an airtight container in the refrigerator until needed. Discard after 3 days.