Appears in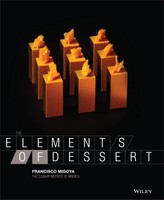 Ingredients
Cake flour 370 g 13.05 oz 24.67%
Sugar 320 g 11.29 oz 21.33%
Baking powder 15 g .53 oz 1%
Salt 5 g .18 oz .33%
Vanilla paste 10 g .35 oz .67%
Egg yolks 230 g 8.11 oz 15.33%
Canola oil 35 g 1.23 oz 2.33%
Water 180 g 6.35 oz 12%
Egg whites 230 g 8.11 oz 15.33%
Sugar 90 g 3.17 oz 6%
Lemon juice 15 g .53 oz 1%
White chocolate, melted 150 g 5.29 oz
Method
Follow the procedure for the chiffon cake.
Once the cake has cooled, freeze it for about 1 hour. It is easier to cut when it is firm.
Once firm, flip it onto a cutting board and peel the rubber mat off. Using a paint roller, coat the base of the cake with a thin layer of white chocolate.
Once it sets, turn the cake over and cut it into ovals measuring 10 cm/4 in wide by 17.5 cm/7 in long.
Keep the cakes frozen until you are ready to use them. Discard them after 1 month.