Appears in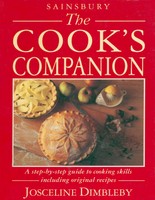 A reliable oven is essential for successful cake and biscuit baking. Most are reliable, but no two ovens are quite the same, so recipe times should be taken only as guidelines, and you should test for doneness a few minutes before the time given in any recipe. Because temperature is so vital in baking, an oven thermometer is useful, and should be hung near the top part of the oven, unless the oven is fan-assisted. It is a good idea to read through your user's manual before baking.
Try not to peek into the oven until the cake has had time to set, especially for light cakes which might sink. And when you do check, do so very quickly and shut the door again gently. In general, position cakes on the shelf just above the centre of the oven and turn the cake if it is browning too quickly on one side.
After baking, test for doneness and then let cakes cool in their tins and biscuits cool on a baking sheet for a few minutes to settle and firm up before transferring to a wire rack to cool completely. Sponge cakes need 5–10 minutes cooling time in the tins; fruit cakes 30-60 minutes; biscuits 1-2 minutes.
Sponge cakes are baked if the top springs back when lightly pressed with a fingertip. Also, look at the cake sides, and if they have started to shrink back from the side of the tin, the cake is baked. If not baked, return to the oven for a few minutes, then retest.

After a cake has rested in its tin (left), invert it on to your hand and peel off any lining paper immediately so the base of the cake does not become soggy. Turn base-side down on to a wire rack to cool completely. Leave until cool before icing or storing.
© 1991 All rights reserved. Published by Websters International.