Appears in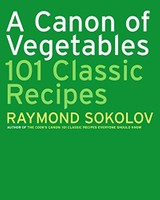 Child, Julia et al. Mastering the Art of French Cooking. New York: Knopf, 1961.
Davidson, Alan. The Oxford Companion to Food. New York: Oxford, 1999.
Dunlop, Fuchsia. Land of Plenty. New York: Norton, 2001.
Everett, Thomas H. The New York Botanic Garden Illustrated Encyclopedia of Horticulture. New York: Garland, 1980.
Goldstein, Darra. The Georgian Feast. New York: HarperCollins, 1993.
Guérard, Michel. La Cuisine Gourmande. Paris: Laffont, 1978.
Helou, Anissa. Lebanese Cookery. New York: St. Martin's, 1998.
McGee, Harold. On Food and Cooking. New York: Scribner, revised edition, 2004.
Montagné, Prosper. Larousse Gastronomique. Paris: Larousse, 1938.
Saint-Ange, Camille Andrée Marie. La Cuisine de Madame Saint-Ange. Paris: Larousse, 1925.
Schneider, Elizabeth. Vegetables from Amaranth to Zucchini. New York: Morrow, 2001.
Schrecker, Ellen. Mrs. Chiang's Szechwan Cookbook. New York: Harper & Row, 1976.
Sokolov, Raymond. The Saucier's Apprentice. New York: Knopf, 1976.
_____. Fading Feast. New York: Farrar Straus Giroux, 1981.
_____. Why We Eat What We Eat. New York: Simon & Schuster, 1991.
_____. The Cook's Canon. New York: HarperCollins, 2003.
_____. How to Cook. New York: HarperCollins, 2004.
van Wyk, Ben-Erik. Food Plants of the World. Portland (Ore.): Timber Press, 2005.
© 2007 Raymond Sokolov. All rights reserved.