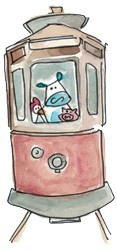 OUR MERRY ADVENTURERS TRAVEL in the front car of an elevated subway train, their noses pressed to the glass, straining to see the great granite stanchion of the Brooklyn Bridge as they pass underneath. And now, the city of Manhattan, in the summer of 1947, stretches out before them. In splendid color, in real 3-D. "It's gorgeous!" Walt exclaims.
"Why isn't the city in black and white?" PB asks.
Whitty chuckles. He explains to PB that no one lived in black and white. It was the cameras.
They hop off the train at the first stop in Manhattan and circle back down toward the river, to the foot of the Brooklyn Bridge. They stop in front of a vaulted tunnel, their path blocked by a chain-link fence. "Here!" Walt yells. He's found a spot where the fence has been cut and bent back at the bottom. The three brave travelers climb underneath and make their way down the darkening tunnel.