WALT'S ALARM CLOCK BUZZES. Actually, it clucks like a chicken. Bok-bok-bok—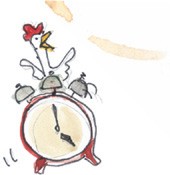 He smacks it against the wall. It's five o'clock in the morning. The sun's not even up. He drags himself out of bed and staggers to the kitchen. He grabs a triple shot of espresso. Gulps it down. Picks up his briefcase and heads to the garage. He can't decide which car to drive. There are three identical fancy convertible sports cars.
One is green. One is red. And one is purple. Eeny, meeny, miny, moe. He picks the purple one. Off to work!