Appears in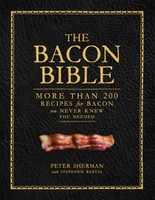 When it comes to adding flavor and richness to your cooking, flakiness to your baking (think biscuits, tortillas, and piecrust), and smokiness and mouthfeel to your liquor and cream, there's nothing better than bacon fat. And guess what? If you are really going to cook from this book (and I hope that you are), you are going to have lots of rendered fat to store in your refrigerator. You'll be getting the fat from thin slices of bacon, thick slices, lardons, and chopped pieces. There is, however, a way to render fat from bacon just for the sake of rendering the fat. But before you pull out that skillet or sheet pan, here are a few rules to follow to get the most fat out of that bacon and store it properly for future use.
Chop your bacon—slab if possible, but chopped thick-sliced bacon works too—into small dice. The goal is to expose as much of the surface area of the bacon as you can to get more fat out using lower heat. This prevents the bacon or fat from cooking too quickly and burning.
Add a few teaspoons of neutral oil (I like canola) to the pan to get it going, then fry slowly over medium heat in a heavy skillet (cast iron, if possible), stirring occasionally to keep the pieces from sticking. The bacon is done when it's golden brown and has shrunk about 50 percent in volume and the pan has a nice thick layer of grease in it.
Remove the pieces of bacon using a slotted spoon and drain them on a layer of paper towels until you're ready to use. You can use immediately as a garnish for baked potatoes, salads, popcorn, or ice cream, or store in plastic bags in the freezer for future use (see Bacon Bits).
Strain the fat through a fine-mesh sieve into your "grease jar." Don't use plastic—if the fat is still hot, it could melt the container; plastic can also impart a flavor to the stored grease. I use a pint-size glass jar with a wide mouth. The wide opening is convenient for spooning out dollops of fat.
© 2019 All rights reserved. Published by Abrams Books.