Appears in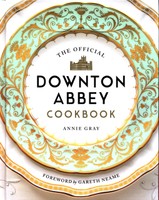 DAINTY AFTERNOON TEAS ARE A FIXTURE IN the world of Downton Abbey. From the robust, cake-heavy library teas of Lord Grantham to the refined setting of a genteel tearoom, the variety of experiences seen on screen reflects the enormous range of tea-taking occasions in British life.
Having a cup of tea and something light to eat in the afternoon was well established as part of the daily pattern of meals by the early twentieth century. Tea itself had been introduced to the country in the mid-seventeenth century, when it was very expensive. The price gradually came down over the course of the next one hundred years, however, and by the Victorian era, it was enjoyed by all.
Right from the beginning tea was often drunk with a slice of bread, a biscuit, or a piece of cake, and in the Regency era, as written about by Jane Austen, the habit of taking tea was a key part of the social whirl for wealthy ladies who visited one another in the afternoon. It wasn't until the 1870s that this habit gained not only a name—afternoon tea—but also more devotees, as the lower classes enthusiastically adopted what they perceived to be an elegant occasion with a whiff of the aristocratic about it. A myth even started to circulate that the custom had somehow been "invented" in the 1840s by a duchess.
By the Edwardian era, tea wasn't just something you had at home. Tearooms boomed, including chains such as ABC and Lyons. They were seen as intrinsically feminine and therefore unthreatening, and were ideal places for women of all classes to gather and chat away from male intrusion. Some became key locations for the women's suffrage movement, and violent campaigns were often hatched and launched over the seemingly innocuous swirl of steam off a hot cup of tea. They were also useful for courting couples, who could, especially in the more relaxed atmosphere of the 1920s, meet unchaperoned in the protected surroundings of a genteel tearoom. Downton's Rose, ever the modern woman, meets Jack Ross in a tearoom in Thirsk.
By this time, teas came in more forms than just afternoon tea. There were meat teas, family teas, high teas, tennis teas, and the very specific "at homes," when ladies, generally titled or at least moneyed, were officially at home to callers and dropped in on one another. Afternoon tea could easily morph into a large-scale garden party as well, and parties of this type were well liked, for they were fairly informal, easy to cater, and could accommodate a large number of people. A garden party usually involved a great deal more than just sandwiches, cake, and tea. An invitee could expect to see punches and endless Champagne, plus ice creams and water ices. The food was light, easy to digest, and deliberately fairly bland, as befitted a proper, ladylike meal at which the central beverage was not strongly flavored.
© 2019 All rights reserved. Published by Weldon Owen.