Appears in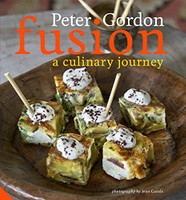 Istanbul, Friday afternoon: the office at Changa restaurant, Taksim Square.
As I write this, I sit observing Changa restaurant's two owners Tarik and Savas, my good friends, locked into their computers, concentrated as ever, looking after business, anticipating the arrival of the funky Friday night DJ. Meanwhile Zelciye, their wonderful manager, is organising the waiters, bar staff and chefs - and sorting out the new seed sprouter they'll soon be using to grow their own cresses. The two restaurant dogs, Changa and Abajur, street strays from Istanbul and Bodrum respectfully, are at my feet hoping I'll let them have some of the manti that I'm eating for lunch. Manti are little pasta parcels containing minced beef that resemble a Chinese dim sum as much as a ravioli, although they come in a variety of shapes and sizes. They're boiled and served smothered with a thin yoghurt sauce containing huge amounts of raw garlic plus masses of melted butter, warmed up with an infusion of kirmizi biber (chilli flakes). Dried, rubbed mint and sumac, traditionally sprinkled over the top, gives them an even more delicious aroma and sharpness. Before the manti we ate a tasty Armenian mackerel dolma with salad - dolma meaning stuffed. The mackerel had been boned but kept whole (minus the head) and then filled with a mixture of rice, pine nuts, dried currants, dill, dried mint, black pepper, olive oil and a hint of cinnamon before being baked in the oven.
Both the manti and the mackerel dish are great examples of the cuisine in this part of the world. In its simplest form, it is pure and uncluttered, but with a juxtaposition of textures and flavours that would seem out of place in another country. I can't, for example, picture an Italian kitchen smothering ravioli with runny yoghurt and butter, or the French serving mackerel with cinnamon, but here they're both traditional recipes. That's why I love Turkish cuisine and that of Turkey's neighbouring countries, as much as I do. Historically, the Ottomans and therefore the Turks have played with sweet, fruity and savoury flavours alongside myriad spices usually used for desserts in a way that just isn't part of other European kitchens.
As for the manti themselves, Tarik and I bought them from the owner of a tiny little pastry shop a few minutes walk from his home. His range of products is really quite small. One of his specialities is a pastry called yufka that he makes by hand, rolling a wheat-based dough into large, paper-thin rounds before cooking them on top of a convex black metal plate used for various versions of börek. Perhaps the most unusual product he sold though was a pasta called erişte, which is made from wheat flour grown in Konya, mixed with milk, water, eggs and salt before being rolled out and then cut into 4-mm thick, flat, narrow noodles about 4 cm long which he bakes and dries in the oven for storage. This baking gives it a wonderful subtle, smoky flavour and a firm texture once it's finally prepared in the customer's kitchen. Unlike regular pasta it's not, boiled in masses of water but rather simmered the way one cooks risotto rice. (I bought a kilo to take back to London and I'm really looking forward to creating a new dish with it. At the moment I'm thinking of tossing it with shredded smoked mackerel, wilted spinach, crisp fried garlic and crumbled feta.)
Just when I think our lunch is over, Zekiye presents me with a plate of the most delicious şekerleme ('candied' fruits), consisting of tomatoes, a green walnut and a smallish aubergine, all of which have been preserved in a light sugar syrup. The tomatoes have a firm, crunchy, juicy texture, and are sweet, sour and really flavoursome. The walnut in appearance is much like a pickled walnut you'd find in a European kitchen, but as it has also been preserved in a similar sugar syrup, rather than a vinegar brine, it has none of the sourness I would have expected. The aubergine is like a semi-firm peach in texture - with a walnut (a ubiquitous food in Turkey) stuffed into the end of it. Zekiye tells me the fruit is washed in a lime solution before preserving it which is what gives it such an interesting texture. I made a note to myself to look into this use of lime (the chemical, not the citrus fruit). I've eaten many syrup fruits in my time in Turkey but I have to admit, these would have to be some of the best. And to top off this unique fruit plate, Savas has just given me a preserved orange rind that his mother, Neriman, makes for the restaurant. The staff at Changa and Muzedechanga eat oranges for weeks on end before the skins are shipped to her home in Ankara where she transforms them, with the help of her husband, Ziya, into these lovely preserves. They are then sent back to Istanbul - currently in pride of place on a mosaic cake that Savaş's sister, Serpil, makes.
One of my favourite dishes at Changa was originally created by Tarik's mother, Günsel. It's in the form of a pie, although fresh anchovies serve as the 'pastry', and the filling is a rice pilaf flavoured with sultanas, pine nuts, a little curry powder and lots of fresh herbs, especially Arap şaci (Arab's hair), better known as fennel fronds. This is a dish that Gunsel created for her husband Rifat and herself many years ago. Tarik says the fact that his mum adds curry powder to it is, in itself, her own unwitting homage to Fusion cuisine. It really is a family affair here at Changa and Muzedechanga and that's probably one of the reasons why both restaurants are so successful.
I actually first met Tarik and Savas on 19 August 1999. I well remember the date as it was just two days after a massive earthquake had struck Turkey, killing over 30,000 people across the country. Tarik had emailed me in mid-1999 asking if I'd be interested in becoming a consultant chef to their soon to open restaurant, Changa. After many emails and phone calls over the months preceding our first visit, Michael and I headed off to Istanbul, wondering if it were wise to arrive at such a dreadful time for the country. The guys assured us it would be a welcome emotional break. I have to say that neither Michael nor I were that clued up on Turkey or Istanbul, and as our flight touched down at Ataturk airport it became apparent that a major humanitarian crisis was unfolding as the terminals were housing many Red Cross, United Nations and other aid/ charity aeroplanes and trucks. Over the next few days we came to realise what Turkish hospitality was all about as Tarik and Savas's friends treated us to numerous treats prefaced by 'you simply have to try this...'. Burçak, a wonderful woman who now lives in Sydney, became joint tour leader with the guys, and between them they made sure we got to see the best places in town. We ate the freshest and most delicious baklava, borek and breads around the Grand Bazaar, and had lovely fresh mint tea at the funky Fez café inside the market. Around the Egyptian Bazaar, or the Spice Bazaar as it's also known, we bought a sharp, salty feta-type cheese called Tulum Peyniri, which is left to cure inside the skin of a goat or sheep. The Turks are fanatical about fish and whenever there's a chance of dangling a fishing rod or line in the Bosphorus, or any other of Istanbul's waterways, you'll find men (I'm yet to see a woman fishing) hanging out, gossiping and hopefully catching their dinner. Take a walk at sunset over the Galata bridge that crosses the Golden Horn and you'll find it teeming with such fishermen, as well as mobile carts selling pogaca pastries and sesame-covered simit that resemble bagels.
Fish definitely have their own seasons in Turkey. As I write this story, it's the end of February, and turbot has only just come into its own. Mackerel are plentiful, and so are anchovies, however; Changa have been asked to cater an event in June and it seems the only fish available then will be sea bass or bream. Turkey has a brilliant piece of legislation that states that no fish can be caught in the months of April to September which means that during the breeding season they get the chance to repopulate. They'd need a two-year break to really get back to the levels of the past, but the fact that a nation is so passionate about fish that it willingly supports this measure is a testament to what can be done worldwide to keep the oceans' harvest at sustainable levels.
I've just had a walk along istiklal the main shopping street that runs from Taksim Square down towards the Pera Palace Hotel where Agatha Christie wrote Murder on the Orient Express. The much-celebrated transcontinental train used to finish its European run at the Golden Horn, just across the water. What struck me most on this walk is that although there are many fast food outlets along the street, the food they sell is by no means 'fast food' as we in the West know it. One shop was selling mounds of minced lamb topped with tomatoes and what looked like mozzarella cheese, although in actuality, this will be a traditional Turkish cheese called kasar. Alongside it was a stew of braised baby okra, and in another compartment green beans that had been slowly cooked in olive oil with tomatoes and onions. They looked delicious. On Taksim Square itself there are a collection of doner kebap cafés, 'doner' meaning to spin, and 'kebap' denoting anything grilled, although the word kebab seems to have taken its place in modern parlance. Although in reality, they are fast food outlets, they also offer freshly squeezed orange or pomegranate juice which they've been selling for years, well before pomegranate juice became the must-have drink of the Western world's health-conscious. In this neighbourhood, you'll also find many shops, restaurants and cafés selling a vast array of cakes and sweets. Pistachio or walnut baklava is probably one of the most familiar of these outside of Turkey, but the dessert that I find most fascinating is tavuk goğüsü, a dessert made by slowly cooking chicken breast meat in milk, then finely shredding and thickening it and baking it in a flat deep-sided dish like a flan. Who but the Ottomans would have thought of turning chicken into a dessert?
Their empire was truly vast, and lasted from 1299-1923, a reign of 624 years! Because of the far-flung reach of the Ottoman empire, which stretched across South-Eastern Europe, the Middle East and North Africa, Istanbul became an incredibly important trading port, and a cultural centre with few equals. Ottoman cuisine, at its zenith in the kitchens of the Topkapi Palace, was incredibly creative and playful with many savoury dishes containing spices, nuts and fruit as the norm. Rice and grains were brought in from many Ottoman-controlled lands as well as India and the Far East. Saffron and sumac, cinnamon and cloves, pine nuts and pistachios, dates, tamarind, figs and green almonds all featured heavily in the recipes of the court, and inevitably these culinary ideas, and tastes, filtered into the proletariat diet and its kitchens.
Dining out in modern Istanbul is a real treat for visitors, and the local population alike, as many culinary influences from outside the city (regional Turkish and international) have made themselves felt in recent years. For example, in Rumeli Kavaği you'll find lots of old-fashioned fish restaurants sitting side by side. The fare on offer in all of them is tasty but fairly similar as you'll pretty much be served salad, bread and whatever fish has been caught that day. In comparison, there's a wonderful Antipodean-style café in Bebek called Mangerie that you should visit, where you can sit on the terrace and have a lovely salad, toasted sandwich or a slice of chocolate brownie with a great cappuccino and enjoy the view over the Bosphorus. Towards the airport, you'll find a totally different dining experience at Beyti, a restaurant named unsurprisingly after a Mr Beyti who invented a type of lamb kebap. We ate there a few years ago and I have to say it was a meat fest like none other I've ever experienced. The food was really delicious, but it just didn't stop coming - probably mostly a reflection of Tarik and Savas's generous but excessive ordering. On our first-ever visit to the city, and a couple of time since, we've taken a boat across the Bosphorus to Kanlica to eat sea bass baked in salt at Korfez, a trip well worth taking, especially on a balmy summer's evening as you glide between the Asian and European sides of the city on a water taxi. In Ortakoy, where our friends Ahmet and Engin run Hazal, a fabulous kilim and carpet shop, housed in an old harem, you'll find one of the very first House Cafés. These days it's part of a chain that is rapidly expanding. House Cafés serve contemporary food, great coffees and juices, simply presented in gorgeously designed surroundings. The Tünel House Café is part-owned by Seyhan Özdemir who is half of the award-winning architectural design duo called Autoban, the company who designed Tarik and Savaş's second restaurant Müzedechanga, helping them to win Best New Restaurant in the 2007 Wallpaper magazine awards.
At Müzedechanga the food is a blend of contemporary Turkish and Mediterranean. Sipping Doluca's Safir, a delicious Turkish wine, on the huge terrace in summer, looking over the Bosphorus towards Asia is an amazing experience. The fact that the restaurant sits atop a world-class art museum, the Salop Sabanci Museum, makes it even more special - and recently a concert hall has been added to the property. Changa restaurant itself, where I'm writing this story, is located just off Taksim Square in the centre of town in one of only a few surviving Art Nouveau buildings. It was falling into decay before Tarik and Savas found it and convinced Tarik's brother Tayfun and his wife Suzan to buy it. They renovated it so that now a three-storey modern glass atrium forms the bulk of the dining area, with an artwork by internationally acclaimed artist Canan Tolon covering the rear wall. From here diners can look down into the kitchen through its circular glass ceiling. Initially, I'd been asked by Tarik and Savas to create a menu much like the one I was cooking at The Sugar Club in London at the time, but after visiting Istanbul I was blown away by the produce available in Turkey, produce I had never experienced before. In 1999 it was almost impossible to buy lemongrass, kaffir lime leaves, nam pla (Thai fish sauce), tapioca and even fresh ginger in Turkey, some of my staple ingredients at the time. On the other hand, they had a brilliant fish culture, plenty of spices and herbs and more purslane and samphire than you could think of things to do with. So the menu has evolved over the years into a combination of the best of Turkish and Asian ingredients, with a heavy focus on Japan, as well as hints from Mediterranean Europe.
All in all I have to say that Istanbul is truly the most wonderful melting pot of cultures, religions, languages, foods, design and life experiences. In Ortakoy there is a mosque, a synagogue and a Christian church all just a few blocks from each other. Today, in the pastry shop, we bumped into a woman in her sixties who Tarik said was Jewish. The reason he knew this was that her accent still had traces of Spanish from the time her ancestors, the Sephardic Jews, fled Spain during the Inquisition in 1492, and were then warmly welcomed into the Ottoman Empire. Today I walked past a Christian bookshop selling replicas of Jesus in the manger, crosses and many imprints of the Bible. There are beautiful mosques all over the city that are always in your sight. Their minarets rise above most other buildings, and the call to prayer can be heard around the city like a calming and peaceful tune at different times of the day. Turkey is most definitely a Muslim country, although secular in its politics. However, as numerous peoples with their differing religious beliefs and festivals have been absorbed into the Turkish fabric, so too have their foods and cuisines been assimilated over the centuries during Ottoman times and before. Turkey straddles Asia and Europe in a literal and a spiritual sense, and for this reason alone it is a really important part of the world. This is also why Istanbul is my favourite city in the world. And, purely selfishly, I am so glad Tarik and Savas asked me to come visit them all those years ago, as my life has definitely been enriched by them and their homeland.
© 2010 Peter Gordon. All rights reserved.