Appears in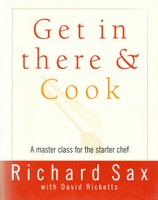 A good pepper mill—for use in the kitchen as well as at the table. There is no substitute for freshly ground pepper—it adds a wonderfully pungent flavor. Some cooks like two mills, one for black and one for white peppercorns.
A swivel peeler—or better, several. I buy several inexpensive peelers and toss them as soon as they are no longer sharp.
Mouli rotary grater—As useful at the table, for grating cheese over pasta, soups, and the like, as in the kitchen. Unsurpassed for fluffy ground nuts.
Restaurant-size flexible rubber spatula—scrapes a whole mixing bowl clean in a few quick strokes. Buy a couple.
Zester—small hand gadget for grating citrus zests in thin, neat strands
A small electric grinder—or preferably two, one for coffee beans, one for spices
Several wooden spoons—in various sizes
A tomato knife—just a small, inexpensive version of a bread knife, but useful for all sorts of kitchen jobs
Flame Tamer—for slow cooking with no danger of scorching
Salad spinner—for perfectly dried salad greens. How did we ever get along without this?