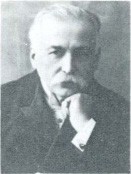 My grandfather, Georges Auguste Escoffier, would have welcomed this book. It is a fitting tribute to the calling to which he devoted his life.
While the last 400 years have seen many great practitioners of the culinary art, it is true that 100 years ago, as he noted in his diaries, 'Society had little regard for the culinary profession. This should not have been so, since cuisine is a science and an art and he who devotes his talent to its service deserves full respect and consideration.'
In his lifetime, my grandfather succeeded in profoundly changing the status of the chef. By the 1920s, his own reputation was such that no important gastronomic event in Europe or the United States was contemplated without his advice. He was promoted to Officier de la Légion d'Honneur and at the inauguration of the Hotel Pierre in New York, there was a special celebration for his Eighty-fifth birthday.