Appears in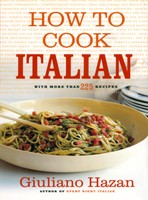 Fold each leaf back, snapping it where the tender part at the bottom of the leaf ends. Pull down to remove. Continue until the lighter, tender part comes about halfway up the leaf.

Cut across the remaining leaves with a chefs knife or a serrated bread knife and discard the top half. Cut off the stem. Always rub any cut parts immediately with a lemon half, so the exposed flesh does not oxidize and turn brown.

Trim the outer part of the stem so only the inner core remains. Put the stem into a bowl of cold water and add the juice of half a lemon.

Use a paring knife to trim the outside of the artichoke, removing all the dark green parts.

Use a knife with a rounded tip, such as a dinner knife, to pry out the choke and scrape away all the white fuzz in the center. Slice the artichoke as directed in the recipe and place the pieces in the bowl of lemon water.