Appears in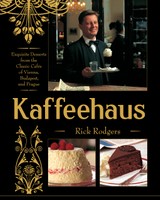 European bakeries use round metal cake rings about 3 inches tall to create their tortes. However, they aren't easy to find in America. And, because many of the cream-filled tortes need to be unmolded, regular cake pans with bottoms are not an option.
Springform pans with removable bottoms are a happy compromise. In only a few cases will the indentation from the pan's clip show in the filling, and that can be fixed with a coating of finely chopped nuts or cake crumbs. Buy the best pan you can afford. Inexpensive pans made from thin metal have clips that fall off and bottoms that warp. Try to purchase pans with a true 9-inch diameter. European pans with 22- and 24-centimeter diameters are really a little smaller or larger than 9 inches, but they will work.
In some recipes, even if the bottom of your pan fits snugly into the ring, butter will run out of the pan and burn in the oven. To prevent this, tightly wrap the bottom of the pan in aluminum foil to catch any drips.
© 2002 All rights reserved. Published by Echo Point.