Appears in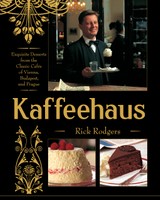 During one trip to central Europe, I was on a strudelmaking mission. Everywhere I went, I saw bakers take flour, oil, and water and make a dough that was effortlessly stretched to edible gossamer. In Vienna, the master baker Wolfgang Leschanz and his assistant spent all morning patiently teaching an American man how to make apple strudel. In Budapest, I spent another morning in the kitchen of Bagolyvár Restaurant, near the city park, where the chefs are I was assured by these chefs that my case wasn't hopeless, and that it was merely a matter of practice. The ladies of Bagolyvár were right.
When I returned home to the States, strudelstretching skills aching to be tested, master baker Sarabeth Levine and I stretched strudel after strudel, testing different recipes. We learned a lot of things that afternoon. First, freshly sauteed bread crumbs sprinkled on the dough not only add flavor, but help separate the layers and encourage flakiness. Don't cut corners and use packaged bread crumbs. Also, most cookbooks give unrealistic instructions on how to really pull the dough, assuming that two people will do the job. We decided that this book should assume only one baker (although the job is easier if you enlist a friend to help). We also realized that these recipes should be for one strudel making eight to ten servings. Some European recipes yield enough for two to three strudels.
The thin, parchment-like pastry that surrounds the apples in an Austro-Hungarian strudel is really filo dough, another culinary inheritance from the Turks. The major difference is that most filo recipes from the Middle East layer the dough with the filling in a pan, but most strudels are wound around their fillings (Strudel means "whirlpool" or "vortex"). As the Turks occupied Hungary for more than a hundred years before they tried to conquer Vienna, strudel is even more established in the coffeehouses of Budapest, where it is called retes. In fact, every Hungarian supermarket carries a coarsely ground, semolina-like flour specifically for making strudel dough.
In this country, no one will complain if you don't make your strudel dough by hand and you use store-bought filo. But, with that all important practice, strudel dough is actually very easy to make. My European hostesses think nothing of whipping up a strudel. This is a throwback to the days when people ate what they raised. The ingredients for the dough were always at hand, and the filling was chosen depending on what was in season or how much cheese was on hand. Cheese strudel was one of the most popular Mehlspeisen, or flour meals, served as a filling repast on meatless Fridays in Catholic households. The seasonal approach to strudel still holds today. Autumn's apples and summer's sour cherries are great reasons for learning how to make strudel by hand.
Strudel is always best when served warm from the oven, or at room temperature a few hours after baking. Refrigerated strudel gets stodgy. If necessary, reheat the unwrapped strudel in a preheated 350°F oven for about 10 minutes before serving, but don't use the microwave, which will make the crust soggy.
To make strudel, you need three things. First, the right flour (our unbleached flour is a fine stand-in for Hungarian retesliszt, or strudel flour). Second, a place to pull the strudel from all sides, like a kitchen table. And finally, the willingness to learn and the acceptance that your first attempt at strudel pulling may not be perfect.
© 2002 All rights reserved. Published by Echo Point.