Preparation info
One

500 ml glass Mason jar
Appears in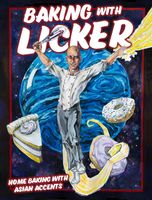 Ingredients
Ingredients
Grams
White Chocolate
250
Heavy Cream
100
Glucose or Corn Syrup
12.5
Butter
25
Method
In a medium-sized microwave-safe bowl, start to melt the white chocolate in 30-second increments. Just semi-melt it.
In a small-sized saucepan, boil the heavy cream, matcha, and glucose.
Pour the hot mixture into the chocolate in three increments and use a spatula to form a smooth and shiny emulsion. Move the chocolate around as you add the hot mixture to incorporate the cream evenly. Do not pour the hot mixture in all at once. If you do, the ganache may separate.
Use a spatula to incorporate the butter until you have achieved a smooth, shiny ganache.
Pour the ganache into a glass container or Mason jar. Place a piece of plastic wrap directly on top of the ganache.
Let the ganache set up overnight on your counter or in a cool area.