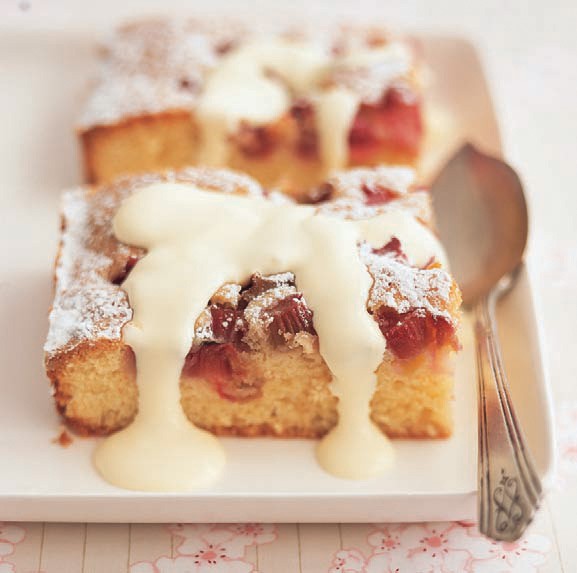 Appears in

Ingredients
300 g (10½ oz) rhubarb, trimmed and cut into 5 mm (¼ inch) slices
115 g (4 oz/½ cup) caster (superfine) sugar
185 g (6½ oz) unsalted butter, chopped
230 g (8½ oz/1 cup) caster (superfine) sugar, extra
½ teaspoon vanilla extract
3 eggs
90 g (3¼ oz/¾ cup) plain (all-purpose) flour
¾ teaspoon baking powder
1 tablespoon sugar
icing (confectioners') sugar, to dust
Method
Combine the rhubarb and sugar in a bowl and set aside, stirring occasionally, for 1 hour, or until the rhubarb has released its juices and the sugar has dissolved. Strain, discarding the liquid.
Preheat the oven to 180°C (350°F/Gas 4). Grease a 20 × 30 cm (8 × 12 inch) shallow cake tin with butter. Line the base with baking paper, leaving the paper hanging over on the two long sides.
Cream the butter, extra sugar and vanilla in a bowl using electric beaters until pale and fluffy. Add the eggs one at a time, beating well after each addition. Sift the flour and baking powder over the mixture, then stir to combine. Spread the mixture evenly over the base of the prepared tin, then put the rhubarb over the top in a single layer. Sprinkle with the sugar.
Bake for 40–45 minutes, or until golden. Leave to cool slightly in the tin, then carefully lift out and cut into squares. Dust with icing sugar and serve with cream. The rhubarb slice is best eaten on the day it is made.